I november presenterade Svenska missionsrådet rapporten "Claiming Space for Faith – Including Freedom of Religion or Belief in the Fight for Civic Space". Med underlag från 29 länder belyser rapporten sambanden mellan det krympande demokratiska utrymmet och den negativa utvecklingen för religions- och övertygelsefrihet i världen.
Fördjupande intervju om hur religionsfrihet och demokratiskt utrymme hänger ihop
Den internationellt välrenommerade resursportalen Religion and Diplomacy har intervjuat vår rådgivare för religionsfrihet Kristina Patring. Intervjun uppmärksammar särskilt rapportens slutsatser och rekommendationer till internationella beslutsfattare och biståndsaktörer samt diplomater och forskare.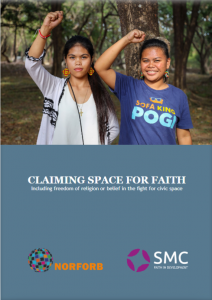 Rapporten visar flera kopplingar mellan hur respekten för religionsfrihet och demokratiskt utrymme hänger ihop. Vikten av att arbeta integrerat med yttrandefrihet, mötesfrihet, föreningsfrihet och religions- och övertygelsefrihet för att stärka demokratin är grunden till flera av rekommendationerna som förs fram. Att bristen på religionsfrihet slår särskilt hårt mot jämställdhet och kvinnors rättigheter är en annan viktig slutsats.
Resurser för att lära mer om religionsfrihet och utvecklingsfrågor
Religion and Diplomacy är en digital resursbas för frågor som rör religion och internationella relationer. Webbplatsen drivs av sekretariatet för det transatlantiska policynätverket kring religion och utveckling (förkortas TPNRD på engelska) med säte vid Clare College, Cambridge University, England.
Läs intervjun med Kristina Patring på Religion and Diplomacy's webbplats.