In November, SMC – Faith in Development presented the report "Claiming Space for Faith – Including Freedom of Religion or Belief in the Fight for Civic Space." With data from 29 countries, the report highlights the links between the shrinking democratic space and the negative development of freedom of religion and belief in the world.
In-depth interview on how religious freedom and democratic space are connected
The internationally renowned resource portal Religion and Diplomacy has interviewed our advisor for religious freedom Kristina Patring. The interview pays particular attention to the report's conclusions and recommendations to international decision-makers and aid actors, as well as diplomats and researchers.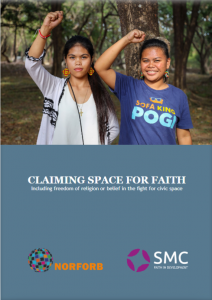 The report shows several links between how respect for religious freedom and democratic space are linked. The importance of working integrated with freedom of expression, assembly, association and freedom of religion and belief in order to strengthen democracy is the basis of several of the recommendations put forward. The fact that lack of freedom of religion or belief particularly affects gender equality and women's rights is another important conclusion.
Resources to learn more about religious freedom and development issues
Religion and Diplomacy is a digital resource base for issues related to religion and international relations. The website is run by the Secretariat of the Transatlantic Policy Network on Religion and Development (abbreviated TPNRD in English) based at Clare College, Cambridge University, England.
Read the interview with Kristina Patring on Religion and Diplomacy's website.
More information and the full report can be found in our press room.