Invitation: Championing a Localisation Movement in DRR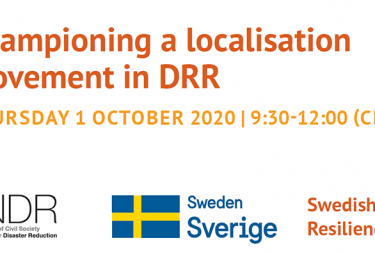 This is an invitation from the Swedish CSO Resilience Network, the Global Network of Civil Society Organisations for Disaster Reduction (GNDR) and the Swedish International Development Co-operation Agency (Sida).  A save the date was announced 1st of September.
The interactive seminar is aimed at Program Directors and staff responsible for contacts with Sida CIVSAM and Sida HUM. We wish to amplify the voices of 100,000 people most at-risk of disasters and discuss how we as actors in Sweden can work together to respond to this local data. The objective is to discuss the importance of localization in disaster risk reduction (DRR). The seminar will also discuss a roadmap forward. It is an excellent opportunity to meet with Sida CIVSAM, Sida HUM, the Swedish Ministry of Foreign Affairs and other network members.
When and how
The seminar will take place online on Thursday 1st of October 9:30-12:00.
After registration here, you will get the Zoom-link and a calender invite.
For more details and overview see the invitation in PDF: Championing a localisation movement in DRR -1 October.
Please share the invitation with others who you think might benefit or have contributions to the discussion.
Preparations
You can prepare by taking part of:
The new GNDR strategy 2020-2025
Views from the Frontline from 2019 is a forward-looking monitoring process that supports inclusive people-centred approaches to DRR. It is designed to support the local implementation of the Sendai Framework for DRR and other people-centred aspects of the sustainable development and climate change frameworks.
Looking forward to meeting all of you!
Lennart Nolvall (SMC)  & Carina Hjelmstam Winberg (Diakonia)