"Child participation is a win-win"
Child participation leads to a more humane society, says Gerison Lansdown. Photo: SMC. Kenya.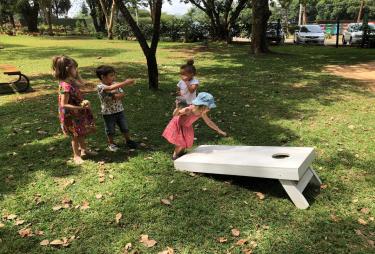 Gerison Lansdown has worked with child and youth participation around the world for decades. In February 2023 she joins the SMC Member Days to share her insights and recommendations for the future.
– Child participation is a win-win because it leads to a more humane society, enhanced realisation of children's rights, a stronger commitment to democracy and more compassion between people, says Gerison Lansdown. We talked to her ahead of the SMC Member Days where she will join us for a digital seminar on how to increase child participation in international development work.
Resisting the pushback on human rights
She is optimistic that some governments and NGOs are trying to increase child and youth participation. At the same time, she describes a general pushback on human rights in many parts of the world.
– Young people need space and safety to explore important issues like sexuality, the climate emergency, and politics, but there is a huge amount of resistance, especially where authoritarianism is growing, and civil society is being closed down.
She emphasizes the importance of shared values when working for change. When she was on the board of Global Initiative she remembers how an interfaith network made a powerful case against corporal punishment – by demonstrating how the teachings of their faith on human dignity and love were incompatible with violence against children.
It all started with the Convention on the Rights of the Child
Gerison Lansdown started out as a social worker in the UK. When the UN adopted the Convention on the Rights of the Child in 1989, she took the opportunity to make a big difference. With support from Unicef and Save the Children she set up the NGO "Children's Rights Alliance for England", to monitor the UK's compliance with the Convention.
– It was hugely exciting! The Convention recognized, for the first time in international law, that children had rights, including the right to be heard, and I thought it had the potential to be transformative.
A boy from Uganda takes the mike
She recalls a young boy from Uganda at a weeklong conference in Switzerland some years back. There were hundreds of people there to discuss child participation and inclusion.
– I sat down on a carpet with a small group of different ages. It was one of the first sessions of the week and I turned to this boy, maybe eleven years old, and asked "Do you feel safe speaking in school?". But he kept his eyes on the carpet and didn't answer.
So Gerison Lansdown thought, maybe he is afraid to be beaten in school or perceived as rude for speaking up to adults. At the end of the week, she gave her final remarks at the concluding session of the whole conference. Suddenly, the same boy asked for the mike.
– I still remember the wonder of seeing this quiet boy speak up in front of all these people, saying that he wished that everyone in the world could share his experience because it had made him feel that he mattered, and that people cared about him.
It is from meetings like this that Gerison Lansdown says she keeps learning. She says that there are many encouraging signs that donors of international development are also increasing their understanding of child participation and including it in their principles.
– By listening to young people we learn what indicators that matter most and what outcomes we should be striving for.
A conceptual framework to increase youth participation and inclusion
Over the past 20 years, Gerison Lansdown has worked with numerous NGOs, academia, the UN, and government bodies all over the world. Together with Unicef she developed a conceptual framework that highlights what children and youth will gain from being included and motivated to participate in different processes:
A sense of self-esteem and self-worth that they and their opinion matter.
The opportunity to make decisions about themselves that they are comfortable with.
The possibility to influence the things that matter to them.
The chance to take part in civic space with their own voice and ideas.
Hear her speak at the SMC Member Days on February 1st 2023.
We have Faith in Development
We work together with our member organisations with faith in development.